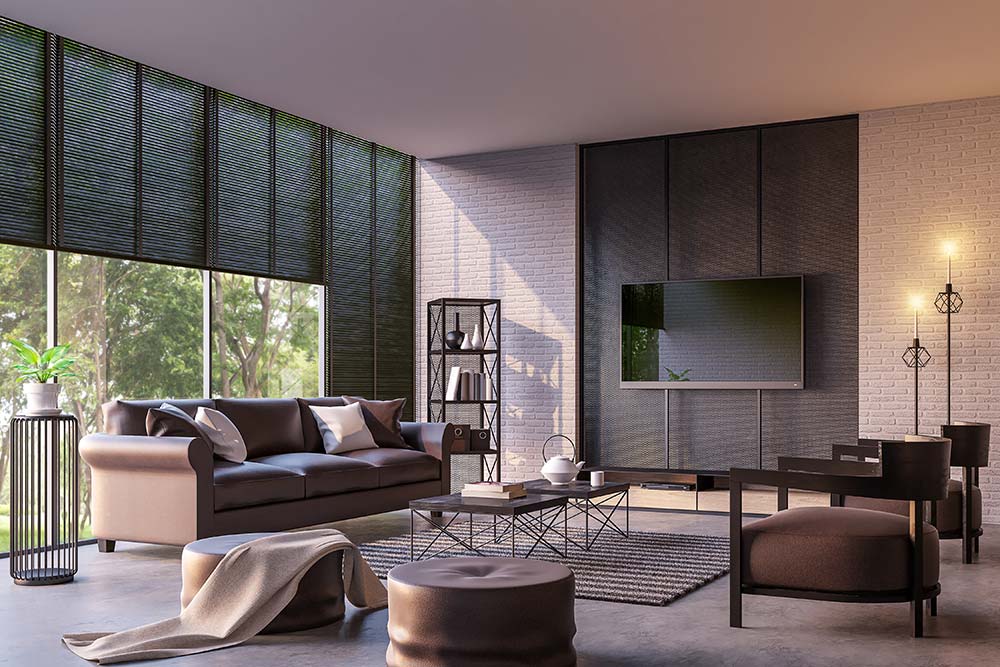 The one thing that can create problems for a new home theater is having incorrect blinds or drapes on the windows. In fact, window coverings are often an unplanned afterthought, leaving viewers disappointed with unpleasant glares and unwanted screen effects. After spending all those hard earned dollars on a great theater system, it's important for the windows to be covered with the correct treatment.
Screen Placement and Proper Window Coverings
The most important aspect when creating a home theater is the placement of the flat screen television. However the second on the list has to be properly covering the windows with appropriate hard or soft treatments that offer flexibility in light control. Sunlight reflecting through windows causes glare and affects the color image on televisions.
Window Covering Ideas for Home Theaters
The options of shutters, blackout shades and lined draperies are all excellent choices for blocking out sunlight and providing a warm interior space for a rich picture on the television.
Lighting & Furniture Placement Tips
Since we are talking about lighting, make sure to address any room lighting with your existing lamps and overhead accessories. Too much close lighting will wash out the picture.
Finally, the placement of couches, chairs, furniture and accessories that allow a viewing angle for all in a comfortable setting.
A dedicated home theater room is a luxury that not a lot of people can afford. Some of the more upscale new construction homes are including dedicated home theater rooms in their design. If you are fortunate enough to be among those who are building a home with a dedicated room – be sure to get professional advice.
Consider Motorization for Added Convenience
One last thing to consider adding to your home theater budget is motorization. Wouldn't it be nice to select one button on your remote control and dim the lights, operate your home theatre and close the window coverings?
Schedule a Window Covering Consultation for Your Home Theater
We have years of experience designing and installing all types of window coverings, including those for home theaters. Contact us today at 661-600-2893.