Why Choose Custom Window Treatments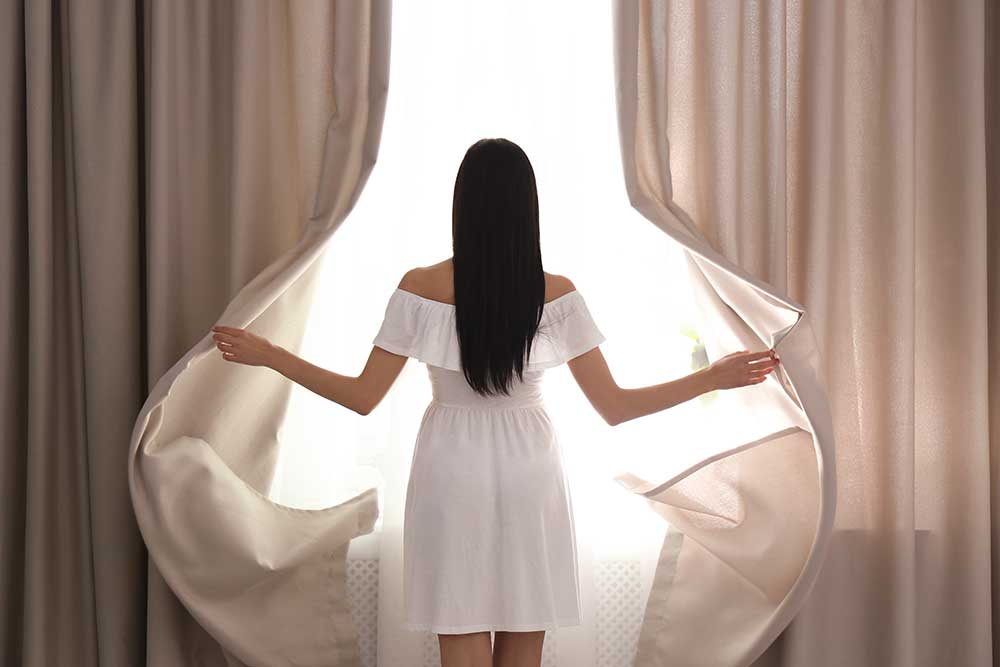 Custom Made Fabric Drapes and Curtains from Picture Perfect Window Coverings
When choosing between custom and store-bought window treatments, it is vital to know the advantages and differences before making a final decision. If you are unfamiliar with what makes a custom window treatment different from a premade store-bought curtains, the experts at Picture Perfect Window Coverings can help. Your window coverings are often the icing on the cake of home decorating, so making them exactly as you envision them is worth the effort and the expense.
When you need custom drapes to complete your decor, count on the expertise of our team to get the job done. We can help determine what styles, prints, and colors compliment your home.
4 Reasons to Choose Custom Window Treatments
See it to believe it. We all know the old saying, "A picture is worth a thousand words." Unfortunately, with custom window treatments, that saying doesn't quite apply. Most of our clients find that the finished product looks much better once they receive it than it does online on our photos. Many factors that make custom curtains so special can't be seen in a picture. Custom draperies, for example, are fully lined, making them fuller and heavier. Our custom draperies weigh about 3-3.5 pounds per panel on average, whereas the same size, unlined store-bought curtain weighs less than a pound. Of course, some store-bought curtains are lined. Unfortunately, most are lined with cotton percale fabric, a thin sheeting fabric with a low thread count. While it may help to block out the sun and prevent fading to some extent, it does little to add fullness to a drapery.
The lining makes the difference. Custom draperies are lined with a thicker poly cotton fabric that blocks the sun in the best way possible (up to SPF 50). The polyester component in the lining gives a drapery more strength and fullness. The lining is especially useful in rooms that experience more moisture and evaporative fumes. That's because cotton captures and releases these fumes much easier making lined window treatments a must in busy kitchens and bathrooms. As you can see, the ideal lining is made of both cotton and polyester.
Tailored to your needs. Custom window treatments are made especially for your room, the way you'd like. These include curtains that are made with solid, neutral colors and standard sizes. If you need to dress a wide nursery window in pink and brown toile fabric, you will have a hard time finding the perfect window treatment that you want. Decorator fabrics come in a wide range of colors, prints, and sizes, giving you endless custom options that most store-bought curtains don't offer.
A wise investment. On average, Americans who purchased custom window treatments keep their custom drapes on their windows for seven years. Store-bought curtains are changed every one to two years. The quality of custom window treatments is better but going after the look you want instead of the available look will also keep you happy with your room for many years longer.
Unique drapes are not easy to find if you're looking for a specific look to fit your room. Most consumers start designing their rooms with matching furniture, pictures, walls, and little accents, only to see their designs come to a screeching halt when they realize they can't find a matching curtain. For this reason, many of our clients tell us what a relief it is to finally have a custom window treatment framing their windows.
Find Value in Custom Draperies for Your Santa Clarita Home
There are many reasons why custom window curtains are better than store-bought, but the most important one is value. Custom window treatments pay for themselves throughout all the years that they gracefully cover your windows. When it's time to update or upgrade your space, call on the team at Picture Perfect Window Coverings. With decades of experience under our belts, we have the expertise and eye to create the perfect look to frame your windows.