R-Value: Energy Efficiency in Window Coverings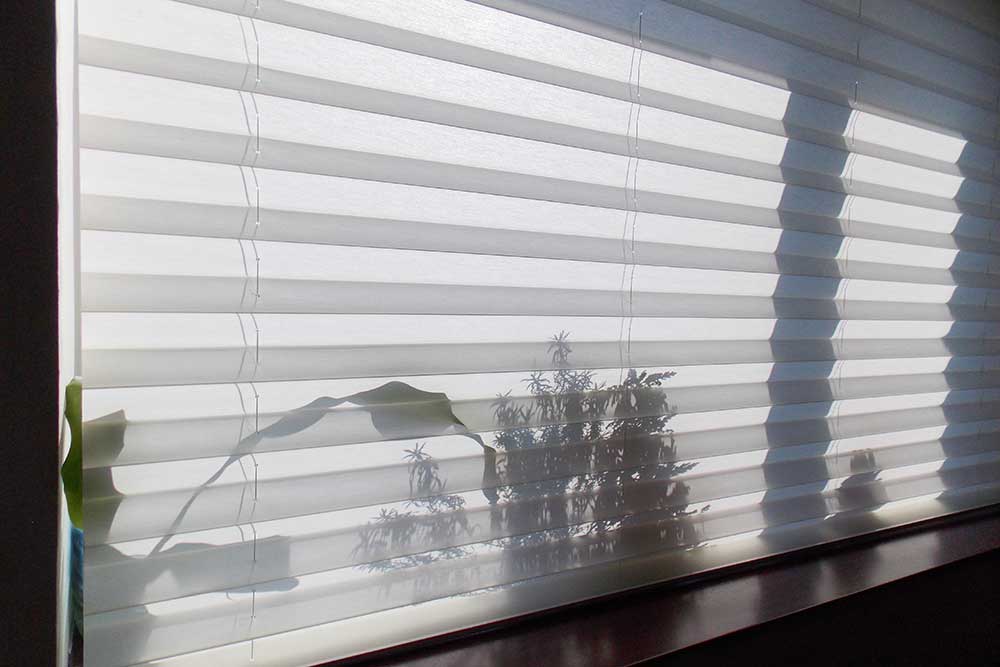 Controlling Heat Loss or Gain through Cellular Shades
R-value measures how well a material reduces energy loss, heat loss, or heat gain. It measures a material's thermal resistance and is a common factor in planning for building and construction. Insulation is one material given an R-value, and windows (and their coverings) are as well.
When efficiency is part of your decision-making, it helps to understand the differences in R-value in different custom treatments. Custom window treatments are assigned an R-value based on each product category. Standard blinds, draperies, shutters, and cellular shades all have a different R-value. The most common window covering used to control energy and temperature efficiency is cellular shades.
At Picture Perfect Window Coverings in Santa Clarita, we can help you choose the window covering that suits your efficiency requirements but still creates a beautiful frame for your windows. We can teach you about the efficiency of cellular shades and the options you have in color, pattern, and style.
Contact the Santa Clarita Valley window treatment experts at Picture Perfect Window Coverings to discuss how we can help you save energy, money, and temperature control with custom window coverings.
Why Cellular Shades?
Cellular Shades are one of the most efficient window products, using honeycomb-shaped fabric pockets to slow the movement of thermal energy. These shades have grown in popularity because of their sleek style that compliments a contemporary, clean décor and how well they control energy loss. The chosen fabric and the honeycomb structure of these shades keep energy loss, heat gain, and heat loss at a minimum.
Cellular shades help you save energy year-round, working as a barrier against energy transfer in both directions. Whether Winter, when the warm air inside your home is trying to escape (naturally moving towards the windows to expand out into the colder air) or Summer when outdoor heat penetrates the home's exterior, cellular shades slow the process.
Efficiency Differences in Cellular Shades
You can choose between single cell and double cell fabrics for your cellular shades, which translates to one or two rows making up the shade's fabric. Depending on your light requirements and the look you are going for, you can also choose between light filtering and blackout fabrics. The cell count and the fabric factors will affect the final R-value of the shades you choose.
With light filtering fabric, single and double cell shades will allow light to pass through. Blackout, double cell cellular shades can filter up to 99% of light, and provide the highest efficiency, an R-value of 4.0.
You can also install sidetracks on your cellular shades for added energy efficiency. Sidetracks are plastic strips installed along the length of the window frame, filling in the gap between the shade and the frame. This creates an additional barrier for heat loss or gain, increasing the R-value further.
Use the outside light and temperature to your advantage! Let Winter light in through the windows that receive direct sunlight, then close the shades once the sun passes to keep that added heat. During the hotter months, keep the shades closed throughout the day to retain the cooled air that your AC provides and to reduce the workload on your HVAC system.
Increase Your Energy Efficiency with Cellular Shades
When you want to get the most out of your window coverings and are ready to start saving on your energy bills, consider cellular shades for your windows. Let the Santa Clarita window shade experts at Picture Perfect Window Coverings help you find the perfect design for your home's decor and needs. From drapes to shutters, blinds, to cellular shades, we can create your ideal window treatment.
Call Picture Perfect Window Coverings to discuss how your window treatments are saving you money and energy and how we can help you get the most out of custom window coverings. Our Santa Clarita window treatment professionals are here to put the finishing touches on your home's windows.