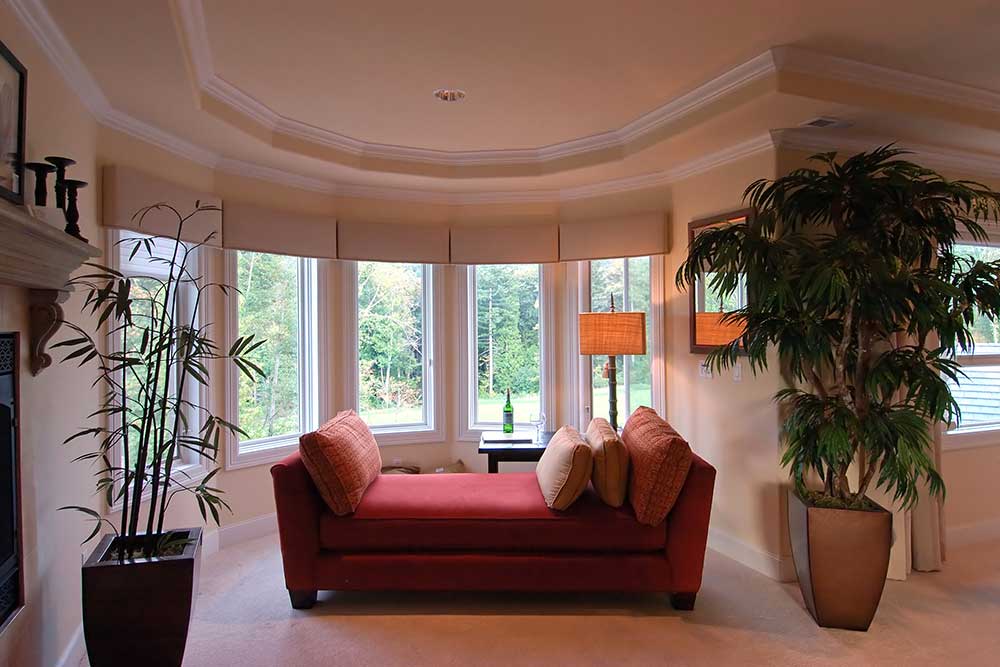 Elegantly Designed Window Coverings for Custom Windows
My clients purchased and lived in their home for over 20 years before tackling this project, and finally were ready to make several changes to their layout to open the view of their property from all rooms. They decided to update the interior with fresh paint, new carpeting, furniture, accessories, and custom window treatments.
They avoided installing window treatments in the past because they enjoyed the views of their beautiful trees, landscape, and beloved wild finches. In addition, they found that deciding on color, fabrics, and style was overwhelming.
This was the point they reached out to me for guidance in color combinations, custom pattern designs, and accessories. The project entailed the entire 10 room home, including multiple bay windows and sliders. Each room design was unique and offered the beauty that these windows revealed.
The Main Event: A Picturesque Window at the Top of the Stairs
The last room of the project was an upstairs half-circle hallway with custom bay windows nestled at the top of a winding staircase. This was located at the end of the main entrance of the home. Protecting the breathtaking view looking up from the entry was the main goal while designing this windows treatment.
My design idea had to be beautiful, elegant, and casual, with just the right combination to suit my client's simple taste. Fancy fringe or trims would not be an option. The beauty of the fabric and design had to stand completely on its own. We selected swags, jabots, and side panels.
The fabric showcased a single flower with shades of tangerine displayed on a single stem. Patterns of diamonds, squares, and scrolls were highlighted by multiple shades of blues and beige. A midnight blue was used for contrast to pop the color in the fabric and blend in with the various blues used in decorating the guest and master suites. Special detail and attention were paid to ensure the centering of the main flower on the swags and jabots. Gracefully positioned at the end of each bay were slender panels affixed to the side with a beautiful multi-color tie back.
The result was magnificent. As the eye follows the spectacular oak stair railing and soft sparkles of caramel carpeting, the beauty of the design and complementary hues of the fabric unfold, revealing a peaceful, exquisite view.