Save Energy and Allow Light with Custom Drapery Linings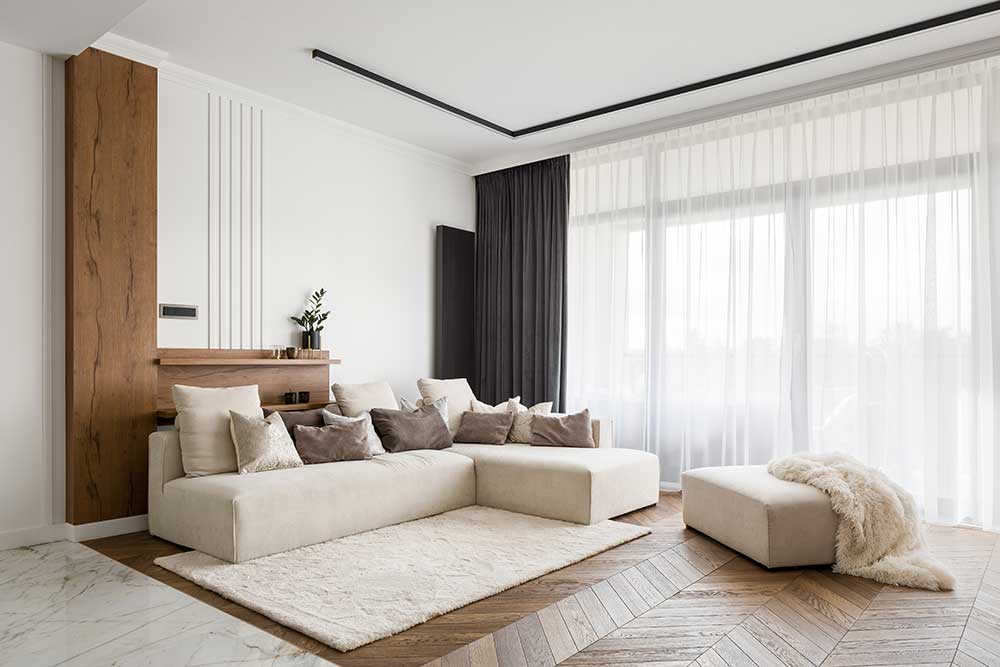 Layering Your Draperies with Picture Perfect Window Coverings
What kind of lining will you need to compliment the choice of fabric you have chosen for your window draperies? When you are choosing more than one layer, the combinations are endless. By layering your draperies using a combination of fabrics, you can customize the light filtration and ambiance of your space. There are two main categories of drapery liners: dimming and light filtering or light blocking and blackout. Once you determine how much light you would like to come into your room through the different layers, it is time to choose fabric type, color, and weave.
For customized draperies that can be adjusted to let in light or block it out, let the Santa Clarita window treatment experts at Picture Perfect Window Coverings be your guide. We've got the design experience and expertise to make your draperies beautiful and functional.
Call our team today to schedule a consultation
2 Main Functions of Lining in Window Treatments
Dimming Liners: Light Filtering and Layers
Dimout lining partially blocks the amount of light allowed to pass through the face fabric. This is a great application for dark or small rooms requiring privacy. Some common face fabrics such as sheers and linens show off the weave and texture of the fabric when light filters through. The use of colors and prints will have a glowing appearance when the light from the outside shines through. This technique will provide a dark and romantic interior ambiance while offering a light and airy feel when open to reveal the sheer or thinner layer.
Blackout and Light Blocking Liners
Light-blocking lining or blackout curtains are extremely energy efficient and completely block out the sun. A lined only solution to black-out draperies uses one layer of fabric in combination with the face fabric. This is usually the style chosen by customers looking for multi-functional draperies as it fits into most budgets. This method provides light filtering as well as light blocking and can be used for any custom window treatment.
Interlined drapery options use two layers of lining material in combination with the face fabric. The most popular style is heavy cotton flannel or bump cloth in combination with your face layer and additional layers. Interlining is often used with silk fabrics and gives a plush appearance.
Blackout lining blocks out sunlight from passing through to the face fabric. The blackout fabric is typically a dark color, though it's also available now in lighter colors, including white. Lighter fabric makes for a better appearance from the street. Blackout curtains, shades, and blinds all reduce energy costs by cutting the amount of sunlight and UV rays that enter the room.
Installation of Layered Draperies
Regardless of the style of layered draperies you choose, the installation should be carefully calculated so that light does not leak through the top of the drapes. When installing, hang your track or pole at least 8″ above the window frame. This will help massively in blocking light from the top. In addition, we recommend extending the track/pole 10″ on each side of the window frame to stem the light leak from the sides. These techniques help to keep the light in the room at the desired brightness as well s preserve the overall look of the window coverings.
Layer Your Drapes to Save Energy and Create Ambiance
The window covering experts at Picture Perfect Window Coverings is here to make your drapery dreams come true. We know the importance of functionality and esthetic with window coverings. Your window draperies can be the finishing touch that completes the mood and look of a room. Let our team help you transform your space using layered draperies and liners to change light filtration.
Contact Picture Perfect Window Coverings to discuss your space and windows today!